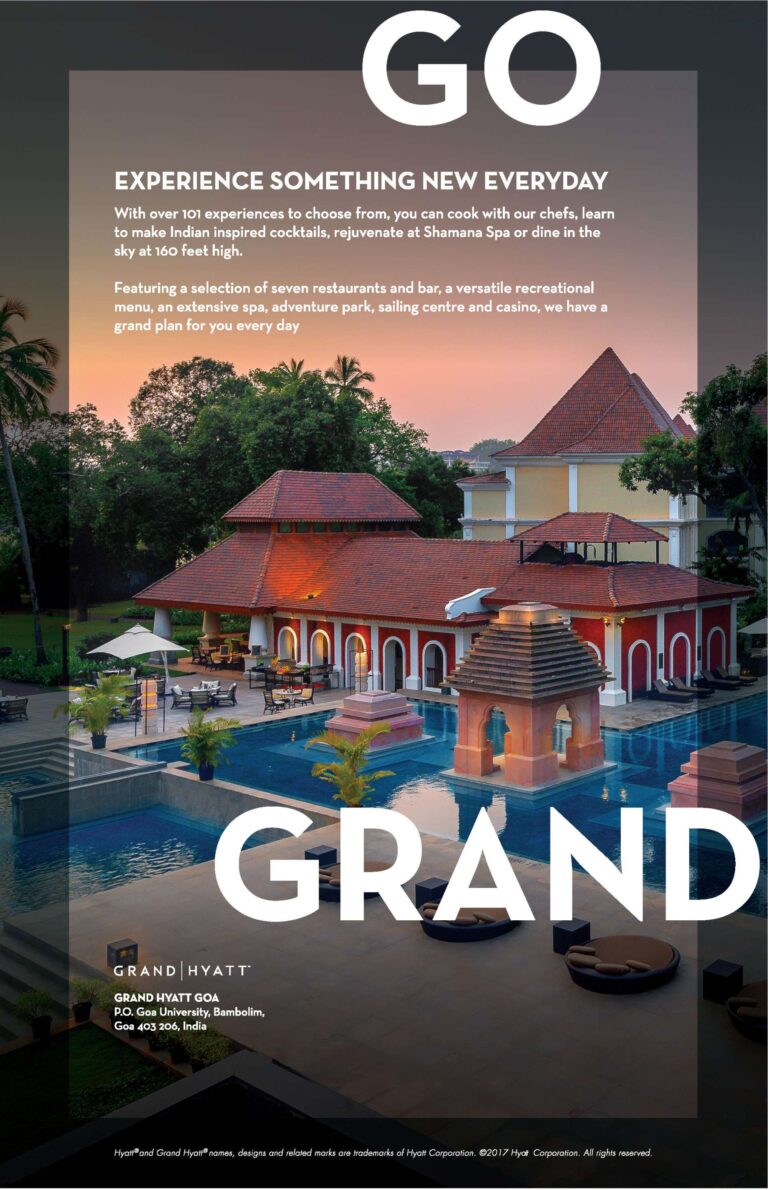 Redefining luxury at the heart of Goa, Grand Hyatt Goa overlooks the visually stunning waters of the Bambolim Bay. This hotel in Goa spreads across 28 acres of colourful, tropical gardens and lush lawns that roll down to the water's edge of the Bambolim Bay.
Unwind and relax in 313 splendidly appointed grand rooms and magnificent suites. Every room at Grand Hyatt Goa features a balcony offering relaxed seating with views of magical sunsets, free-form swimming pool or tropical gardens. The 16 suites also feature a whirlpool in the suite balcony overlooking gardens and ocean.
Grand Executive Suite
Grand Suite
Presidential Suite
King Bed with Club Access
The Verandah: The Verandah at Grand Hyatt Goa, offers its guests authentic Italian food, with an array of wholesome home-style recipes, all prepared in the interactive show kitchen of the restaurant. It is the perfect destination for family dinners, casual gathering of friends, romantic outings and special occasions.
Dining: Our expert chefs work with carefully selected ingredients, authentic recipes and great attention to taste and visual presentations to ensure grand culinary experiences.
The Dining Room: This all-day-dining restaurant features five live kitchens that embrace the idea of eating out of the pan, off the grill and out of the wok. Guests can enjoy a myriad of choices that include a taste of Asian, Indian, Italian and Middle Eastern cuisine, all prepared à la minute.
Guests can reserve a private dining area, a perfect gathering place for celebrating special occasions such as baby showers, birthdays, and holiday parties.
Chulha: Chulha offers guests the chance to dine unparalled Indian cuisine amid warm, colonial architecture, all accented by authentic rural touches. Guests can reserve a private dining area, a perfect gathering place for celebrating special occasions such as intimate dinners, engagements and other landmark celebrations. If guests are in for some fun, the bartenders will give them an opportunity to learn how to make some of Chulha's Indian inspired cocktails.
The Tea Room at Confeitaria: Serving gourmet patisserie, tea infused macarons, homemade truffles and more to have or take away, the Tea Room at Confeitaria brings to you a range of exclusive tea blends, Victorian style and Indian heritage signature high tea, luxury retail products and bespoke hampers for various occasions.
Capiz Bar: Capiz Bar is a versatile retreat and the ideal place in Goa to start the evening with cocktails, linger over a drink after dinner or party to high-energy music. The menu features fine wines, spirits and cocktails that spans a broad selection of iconic classics to innovative creations from our expert mixologists.
Pool Bar and Grill: Located just steps away from the bay, Pool Bar and Grill at Grand Hyatt Goa is designed to be the perfect place for refreshments, lunch or dinner while soaking in the free form outdoor pool. As the sun sets on the waters of Bambolim Bay, the Asian Wok comes to life featuring a glorious fare of signature Asian recipes. Satiate your cravings for authentic Asian flavours as you dig into favourites like Dimsums, Sushi, Thai Curries, and Chinese Woks to name a few.
Bay View Lounge: Goa's central meeting place, Bay View Lounge overlooks the bay and turns into a cozy get-together venue in the evening. By day, guests may indulge in freshly baked pastries, light gourmet fare, and an array of specialty teas and coffee for a perfect afternoon with friends. With complimentary Wi-Fi it becomes a perfect meeting point in Goa for a quick meeting.
In-Room Dining: Let us make your lazy mornings comfortable with breakfast in bed and fulfill your mid night craving with some delicious delights. Available round the clock, enjoy an extensive in-room dining experience in the privacy and comfort of your room.
Meeting and Events: The Grand Hyatt brand has long enjoyed a well-earned reputation for excellence in the field of banqueting and catering. A professional and attentive team oversees many successful events to ensure that catering and conference needs are met to the client's satisfaction. To further enhance its position as a leading conference venue, a dedicated events team has been established who provide and maintain the highest standards of excellence and personalised service for our delegates and organisers.
Facilities: Free Internet Access, Free Parking, On-Site Restaurant, Room Service, Fitness Center, Pool, Spa, Digital Check-In, Business Services, Resort Property, Laundry, Concierge,Meeting Facilities.
Grand Hyatt Goa
P.O. Goa University
Bambolim, Goa, India, 403206
Tel: +91 832 664 1234
Email: grandhyattgoa@hyatt.com
Website: www.hyatt.com/en-US/hotel/india/grand-hyatt-goa