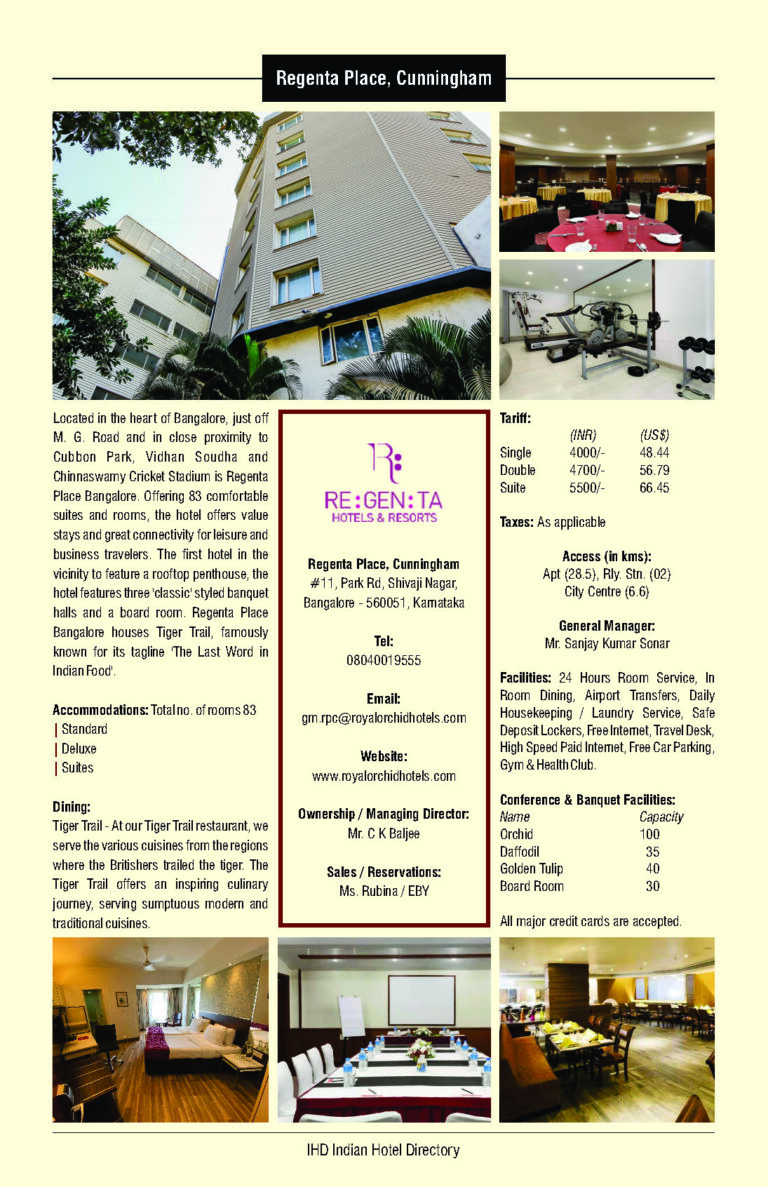 Located in the heart of Bangalore, just off M. G. Road and in close proximity to Cubbon Park, Vidhan Soudha and Chinnaswamy Cricket Stadium is Regenta Place Bangalore. Offering 83 comfortable suites and rooms, the hotel offers value stays and great connectivity for leisure and business travelers. The first hotel in the vicinity to feature a rooftop penthouse, the hotel features three 'classic' styled banquet halls and a board room. Regenta Place Bangalore houses Tiger Trail, famously known for its tagline 'The Last Word in Indian Food'.
Accommodations: Total no. of rooms 83
| Standard
| Deluxe
| Suites
Dining:
Tiger Trail – At our Tiger Trail restaurant, we serve the various cuisines from the regions where the Britishers trailed the tiger. The Tiger Trail offers an inspiring culinary journey, serving sumptuous modern and traditional cuisines.
Tariff:
                               (INR)                  (US$)
Single                      4000/-               48.44
Double                    4700/-                56.79
Suite                       5500/-                 66.45
Taxes: As applicable
Access (in kms):
Apt (28.5), Rly. Stn. (02)
City Centre (6.6)
General Manager: 
Mr. Sanjay Kumar Sonar
Corporate & General Facilities: 24 Hours Room Service, In Room Dining, Airport Transfers, Daily Housekeeping / Laundry Service, Safe Deposit Lockers, Free Internet, Travel Desk, High Speed Paid Internet, Free Car Parking, Gym & Health Club.
Conference & Banquet Facilities:
Name                       Capacity
Orchid                         100
Daffodil                        35
Golden Tulip                40
Board Room                30
All major credit cards are accepted.


Regenta Place, Cunningham
#11, Park Rd, Shivaji Nagar,
Bangalore – 560051, Karnataka
Tel: 08040019555
Email: gm.rpc@royalorchidhotels.com
Website: www.royalorchidhotels.com
Ownership / Managing Director:
Mr. C K Baljee
Sales / Reservations:
Ms. Rubina / EBY