Eagleton - The Golf Resort, Bangalore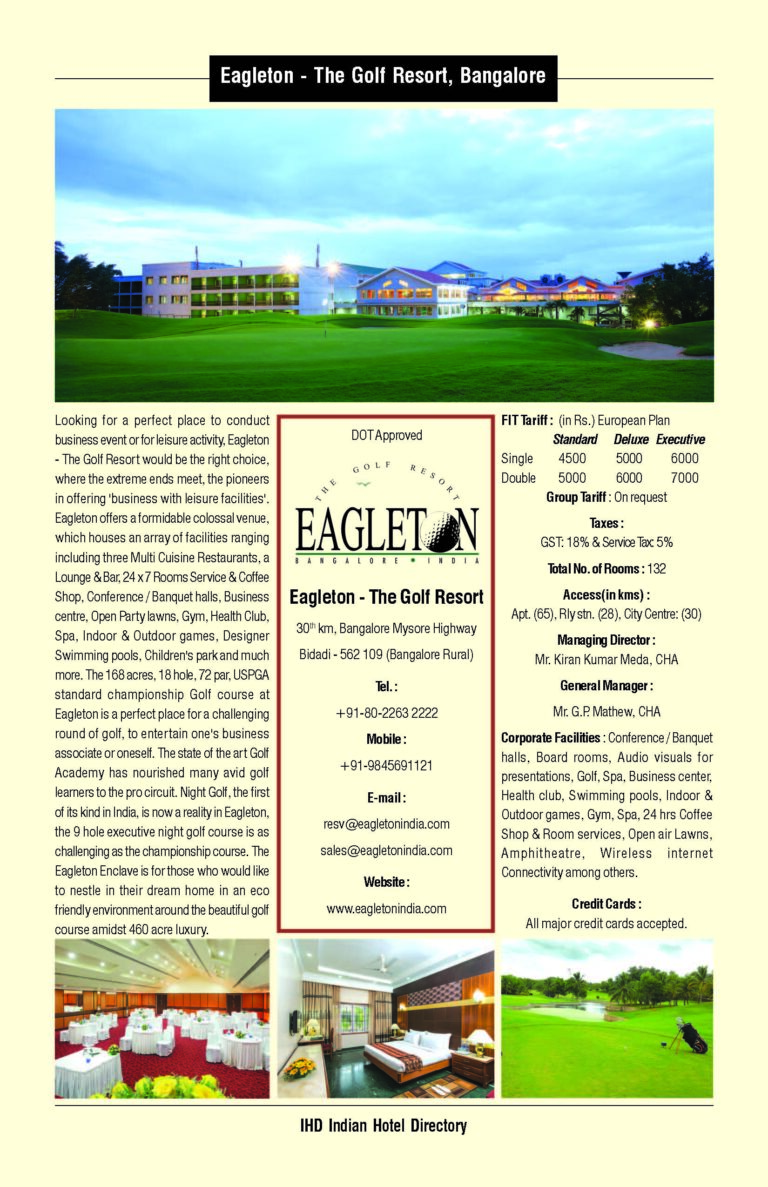 Looking for a perfect place to conduct business event or for leisure activity, Eagleton – The Golf Resort would be the right choice, where the extreme ends meet, the pioneers in offering 'business with leisure facilities'. Eagleton offers a formidable colossal venue, which houses an array of facilities ranging including three Multi Cuisine Restaurants, a Lounge & Bar, 24 x 7 Rooms Service & Coffee Shop, Conference / Banquet halls, Business centre, Open Party lawns, Gym, Health Club, Spa, Indoor & Outdoor games, Designer Swimming pools, Children's park and much more. The 168 acres, 18 hole, 72 par, USPGA standard championship Golf course at Eagleton is a perfect place for a challenging round of golf, to enter tain one's business associate or oneself. The state of the art Golf Academy has nourished many avid golf learners to the pro circuit. Night Golf, the first of its kind in India, is now a reality in Eagleton, the 9 hole executive night golf course is as challenging as the championship course. The Eagleton Enclave is for those who would like to nestle in their dream home in an eco friendly environment around the beautiful golf course amidst 460 acre luxury.
FIT Tariff : (in Rs.) European Plan
                          Standard     Deluxe     Executive
Single                   4500          5000         6000
Double                  5000          6000         7000
Group Tariff : On request
Taxes : GST: 18% & Service Tax: 5%
Credit Cards : All major credit cards accepted.

Total No. of Rooms : 132
Access(in kms) : Apt. (65), Rly stn. (28), City Centre: (30)

Corporate Facilities : Conference / Banquet halls, Board rooms, Audio visuals for presentations, Golf, Spa, Business center, Health club, Swimming pools, Indoor & Outdoor games, Gym, Spa, 24 hrs Coffee Shop & Room services, Open air Lawns, Amphitheatre, Wireless internet Connectivity among others.
Eagleton – The Golf Resort
30th km, Bangalore Mysore Highway Bidadi – 562 109 (Bangalore Rural)
Tel. :           +91-80-2263 2222
Mobile :      +91-9845691121
E-mail :       resv@eagletonindia.com, sales@eagletonindia.com
Website :    www.eagletonindia.com
Managing Director :   Mr. Kiran Kumar Meda, CHA
General Manager :     Mr. G.P. Mathew, CHA