Country Inn & Suites By Radisson, Manipal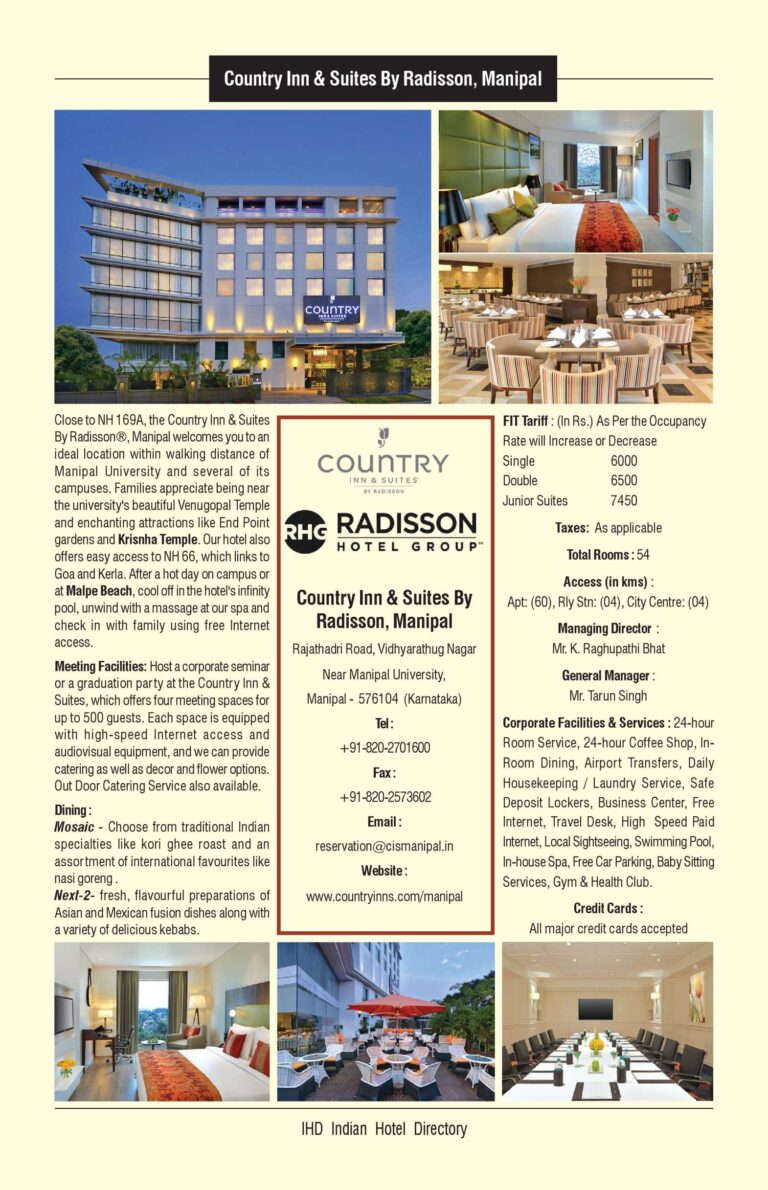 Close to NH 169A, the Country Inn & Suites By Radisson®, Manipal welcomes you to an ideal location within walking distance of Manipal University and several of its campuses. Families appreciate being near the university's beautiful Venugopal Temple and enchanting attractions like End Point gardens and Krisnha Temple. Our hotel also offers easy access to NH 66, which links to Goa and Kerla. After a hot day on campus or at Malpe Beach, cool off in the hotel's infinity pool, unwind with a massage at our spa and check in with family using free Internet access.
Meeting Facilities: Host a corporate seminar or a graduation party at the Country Inn & Suites, which offers four meeting spaces for up to 500 guests. Each space is equipped with high-speed Internet access and audiovisual equipment, and we can provide catering as well as decor and flower options. Out Door Catering Service also available.
Dining :
Mosaic – Choose from traditional Indian specialties like kori ghee roast and an assortment of international favorites like nasi goreng .
Next-2- fresh, flavorful preparations of Asian and Mexican fusion dishes along with a variety of delicious kebabs.
FIT Tariff : (In Rs.) As Per the Occupancy Rate will Increase or Decrease
Single 6000
Double 6500
Junior Suites 7450
Taxes: As applicable
Total Rooms: 54
Access (in kms) : Apt: (60), Rly Stn: (04), City Centre: (04)
Managing Director : Mr. K. Raghupathi Bhat
General Manager: Mr. Tarun Singh
Corporate Facilities & Services: 24-hour Room Service, 24-hour Coffee Shop, In-Room Dining, Airport Transfers, Daily Housekeeping / Laundry Service, Safe Deposit Lockers, Business Center, Free Internet, Travel Desk, High Speed Paid Internet, Local Sightseeing, Swimming Pool, In-house Spa, Free Car Parking, Baby Sitting Services, Gym & Health Club.
Credit Cards: All major credit cards accepted
Country Inn & Suites By Radisson, Manipal
Rajathadri Road, Vidhyarathug Nagar Near Manipal University,
Manipal – 576104 (Karnataka)
Tel : +91-820-2701600
Fax : +91-820-2573602
Email : reservation@cismanipal.in
Website : www.countryinns.com/manipal