Vivanta Hyderabad Begumpet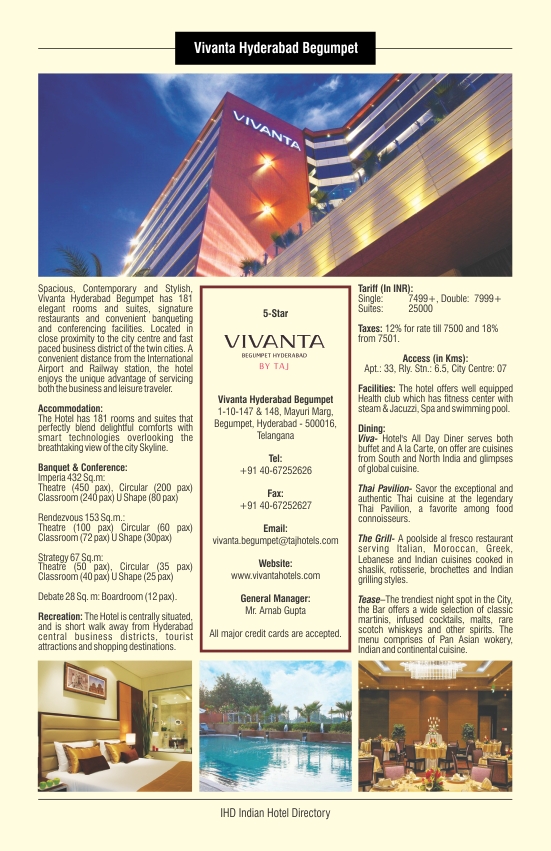 Spacious, Contemporary and Stylish, Vivanta Hyderabad Begumpet has 181 elegant rooms and suites, signature restaurants and convenient banqueting and conferencing facilities. Located in close proximity to the city centre and fast paced business district of the twin cities. A convenient distance from the International Airport and Railway station, the hotel enjoys the unique advantage of servicing both the business and leisure traveler.
Accommodation:
The Hotel has 181 rooms and suites that perfectly blend delightful comforts with smart technologies overlooking the breathtaking view of the city Skyline.
Banquet & Conference:
Imperia 432 Sq.m:
Theatre (450 pax), Circular (200 pax) Classroom (240 pax) U Shape (80 pax)
Rendezvous 153 Sq.m.:
Theatre (100 pax) Circular (60 pax) Classroom (72 pax) U Shape (30pax)
Strategy 67 Sq.m:
Theatre (50 pax), Circular (35 pax) Classroom (40 pax) U Shape (25 pax)
Debate 28 Sq. m: Boardroom (12 pax).
Recreation: The Hotel is centrally situated, and is short walk away from Hyderabad central business districts, tourist attractions and shopping destinations.
Tariff (In INR):
Single: 7499+, Double: 7999+
Suites: 25000
Taxes: 12% for rate till 7500 and 18% from 7501.
Access (in Kms):
Apt.: 33, Rly. Stn.: 6.5, City Centre: 07
Facilities: The hotel offers well equipped Health club which has fitness center with steam & Jacuzzi, Spa and swimming pool.
Dining:
Viva- Hotel's All Day Diner serves both buffet and A la Carte, on offer are cuisines from South and North India and glimpses of global cuisine.
Thai Pavilion- Savor the exceptional and authentic Thai cuisine at the legendary
Thai Pavilion, a favorite among food connoisseurs.
The Grill- A poolside al fresco restaurant serving Italian, Moroccan, Greek, Lebanese and Indian cuisines cooked in shaslik, rotisserie, brochettes and Indian grilling styles.
Tease–The trendiest night spot in the City, the Bar offers a wide selection of classic martinis, infused cocktails, malts, rare scotch whiskeys and other spirits. The menu comprises of Pan Asian wokery, Indian and continental cuisine.
Vivanta Hyderabad Begumpet
1-10-147 & 148, Mayuri Marg,
Begumpet, Hyderabad – 500016,
Telangana
Tel: +91 40-67252626
Fax: +91 40-67252627
Email: vivanta.begumpet@tajhotels.com
Website: www.vivantahotels.com
General Manager:
Mr. Arnab Gupta
All major credit cards are accepted.