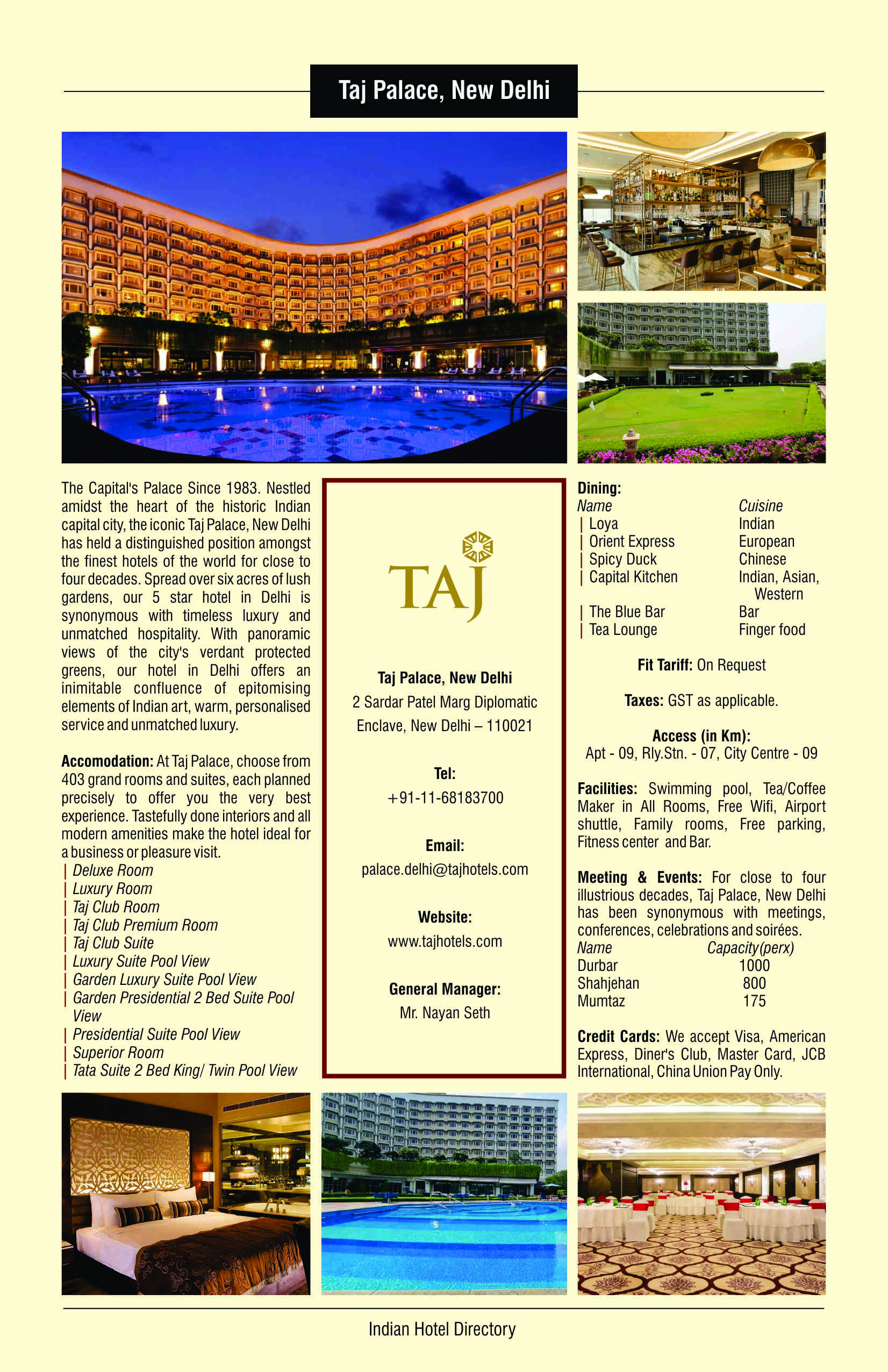 The Capital's Palace Since 1983. Nestled amidst the heart of the historic Indian capital city, the iconic Taj Palace, New Delhi has held a distinguished position amongst the finest hotels of the world for close to four decades. Spread over six acres of lush gardens, our 5 star hotel in Delhi is synonymous with timeless luxury and unmatched hospitality. With panoramic views of the city's verdant protected greens, our hotel in Delhi offers an inimitable confluence of epitomising elements of Indian art, warm, personalised service and unmatched luxury.
Accomodation: At Taj Palace, choose from 403 grand rooms and suites, each planned precisely to offer you the very best experience. Tastefully done interiors and all modern amenities make the hotel ideal for a business or pleasure visit.
| Deluxe Room
| Luxury Room
| Taj Club Room
| Taj Club Premium Room
| Taj Club Suite
| Luxury Suite Pool View
| Garden Luxury Suite Pool View
| Garden Presidential 2 Bed Suite Pool
View
| Presidential Suite Pool View
| Superior Room
| Tata Suite 2 Bed King/ Twin Pool View


Dining:
Name Cuisine
| Loya Indian
| Orient Express European
| Spicy Duck Chinese
| Capital Kitchen Indian, Asian, Western
| The Blue Bar Bar
| Tea Lounge Finger food
Fit Tariff: On Request
Taxes: GST as applicable.
Access (in Km):
Apt – 09, Rly.Stn. – 07, City Centre – 09
Facilities: Swimming pool, Tea/Coffee Maker in All Rooms, Free Wifi, Airport shuttle, Family rooms, Free parking, Fitness center and Bar.

General Manager: Mr. Nayan Seth
Meeting & Events: For close to four illustrious decades, Taj Palace, New Delhi has been synonymous with meetings, conferences, celebrations and soirées.
Name                             Capacity(perx)
Durbar                           1000
Shahjehan                      800
Mumtaz                          175
Credit Cards: We accept Visa, American Express, Diner's Club, Master Card, JCB International, China Union Pay Only.
Taj Palace, New Delhi
2 Sardar Patel Marg Diplomatic Enclave, New Delhi – 110021
Tel: +91-11-68183700
Email: palace.delhi@tajhotels.com
Website: www.tajhotels.com